blog home Bamboo Uses Celebrate Halloween with DIY Bamboo Party Decorations!
Celebrate Halloween with DIY Bamboo Party Decorations!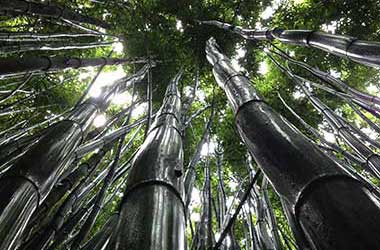 Are you constantly trying to come up with innovative ways to upcycle those lightly-used household items or leftover crafting scraps from previous projects? If so, grab your scissors, construction paper cut-outs, and hot glue gun to get started on these fun-filled DIY bamboo Halloween decorations.
Whether you're trying to spruce up your living space with a couple of ghoulish goblins, or you signed up to chaperone an entire Halloween extravaganza at your kid's school, the cost of materials is always a concern when arranging any type of celebration. Most hosts focus on the price of food and entertainment, which will sometimes put a financial strain on the remaining items on your party-planning list, like decorating the event space for example. So, to save you some money without having to cut crucial corners, we have created a short list of do-it-yourself Halloween decorations using bamboo products.
Bamboo skeletons – Using a heavy duty string, thread the material through the bamboo in the form of a body, attach it to a paper maché skull, then hang Mr. Bones in a scary place. You could even paint the bamboo to give it a more "lifelike" appearance.
Bamboo streamers – Also using a heavy duty string or twine, alternate orange and black bamboo pieces along a line and attach the ends at opposite corners of the room. Incorporate a few strands of lights for some additional glitz & glamour.
Bamboo centerpieces – Make your own monster mash with a handful of small bamboo shoots. Color the bamboo to match Hollywood's scariest cinematic characters, like Frankenstein, the Mummy, and Dracula. Attach some key features like fake fangs or bolts and voila! Additionally, these can also double as a take-home party favor and depending on the type of Halloween party you're having, this could also be used in a crafting corner for smaller children with smiling pumpkins and friendly ghosts.
Budget-Friendly Bamboo Décor
Get the most bang for your Halloween party budget with bamboo! Even if you don't have a crafty bone in your body, there are still plenty of affordable & versatile bamboo decorations that are already "put together" and available to purchase at your local big box store. Regardless of whichever decorating route you choose, just remember that every time you use bamboo, you're also helping the fight against climate change – a real reason to celebrate.
Few plants offer the strength and beauty that bamboo does. It is truly a plant of emmaculate design.
Learn More
We are dedicated to the promotion and use of bamboo throughout the world. Bamboo is a plant that offers limitless potential for the future. It offers us strength, sustainability, versatility, and a green alternative.